LIVING BY THE CREED THAT RUNS THROUGH THE VEINS OF ALL WARRIORS PAST AND PRESENT.
WARRIOR UP... IT'S A CREED, IT'S A LIFESTYLE, IT'S MORE!
Life is full of ups and downs, and these ebbs and flows are what makes life awesome for some and regretful for others. Understanding the equipment, we were given, and the training on how to use it is the only thing that will allow us to make it through these times of challenge.
This Warrior Up book is dedicated to the men and women who have served this country in selfless sacrifice to ensure our Freedom. It is estimated that 22 Veterans a day commit suicide because of PTSD. Even though this book is dedicated to our Veterans, I believe many can benefit from a straight to the point easy to read journey to find a purpose that is waiting. This book isn't just for veterans, but everyone!

#Books4Heroes is a program I'm offering to give FREE books to our Warriors in the Military & Veterans who are dealing with #PTSD or could just use some encouragement. We believe this book will help them to #WarriorUp & rise above their circumstances by realizing that they were created with a purpose as said in Ephesians 1:4. I would love your help with this program to sponsor a book for our military & veterans.
The online book donation portal is coming soon, contact us below to receive a custom link to sponsor books.
BECOME A BOOK SPONSOR TODAY
You can buy the Warrior Up Book is at: West Bow Press, Amazon, Barnes & Noble, Apple Books & More... or ...
Get Warrior Up Books & Gear
I Have Lofty Goals ... I want to see 500,000+ Warrior Up books donated to heroes who can benefit from them!
---
80
#BOOKS4HEROES
DONATED TO MILITARY
MEMBERS & VETERANS
121
PAPERBACK
WARRIOR UP
BOOKS SOLD
5
HARDCOVER
WARRIOR UP
BOOKS SOLD
13
WARRIOR UP
eBOOKS
SOLD
139
TOTAL
WARRIOR UP
BOOKS SOLD
---
Book sales numbers are updated every 30 days on the 1st (after the published date of 20 FEB 2020), and these numbers may have increased since the latest post.
WARRIOR UP NEWS
LA Times Festival of Books
I'm excited to let you know that the Warrior Up Book will be at the LA Times Festival of Books, April 18-20, 2020. You don't have to wait until then to get your copy of Warrior Up; order your book now on West Bow Press, Amazon, Barnes & Noble. My Website store is coming soon.
5 March 2020
---
Warrior Up Published
The Warrior Up Book is on sale now. Find it Online @ West Bow Press, Amazon, Barnes & Noble, & more. Please check out the kickstarter to help jumpstart the #Book4Hereos campaign.
PUBLISHED — 20 FEB 2020
#Book4Hereos campaign
24 February 2020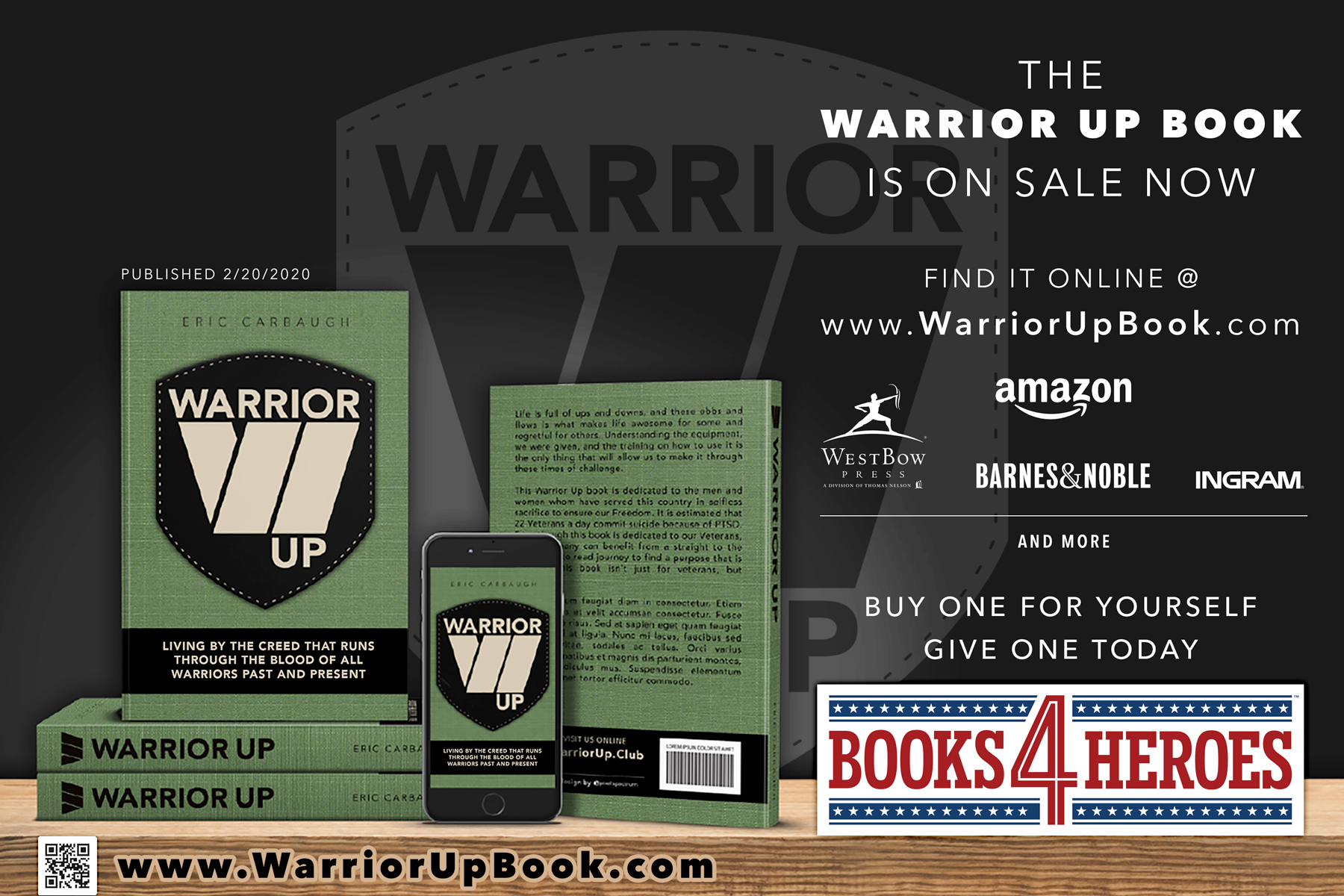 ---
Warrior Up on Kickstarter
Warrior Up is Coming SPRING 2020 – Pre-Sales going on now. BUY ONE for yourself, and GIVE ONE to a warrior today. #WarriorUp #Books4Heroes #WarriorsCreed #NeverGiveUp.
PRE-ORDER ON KICKSTARTER
21 January 2020
---
UPCOMING WARRIOR UP BOOKS
While writing Warrior Up two other books ideas came about. Warrior Up, Pathfinder is being written now.